FOR IMMEDIATE RELEASE
September 25, 2023
Shannan Schmitt
Senior Director, Communications
sschmitt@healthcollab.org
Connect with Nearly 20 Employers and Educators Hiring Now
Public Library, Ohio Means Jobs, Ohio to Work, and The Health Collaborative host career fair for in-demand healthcare jobs
Cincinnati, OH – The healthcare industry unites with aspiring professionals at the Healthcare Career Fair on September 26. Ohio Means Jobs, Ohio to Work, The Health Collaborative, and the Cincinnati and Hamilton County Public Library host nearly 20 healthcare employers and educators with opportunities available immediately.
Event Details:
Date: September 26, 2023
Time: 1:00 PM – 4:00 PM
Location: Cincinnati and Hamilton County Public Library, 4020 E. Galbraith Rd, Cincinnati, OH 45236
For more information and to pre register: healthcollab.org/healthcarecareerfair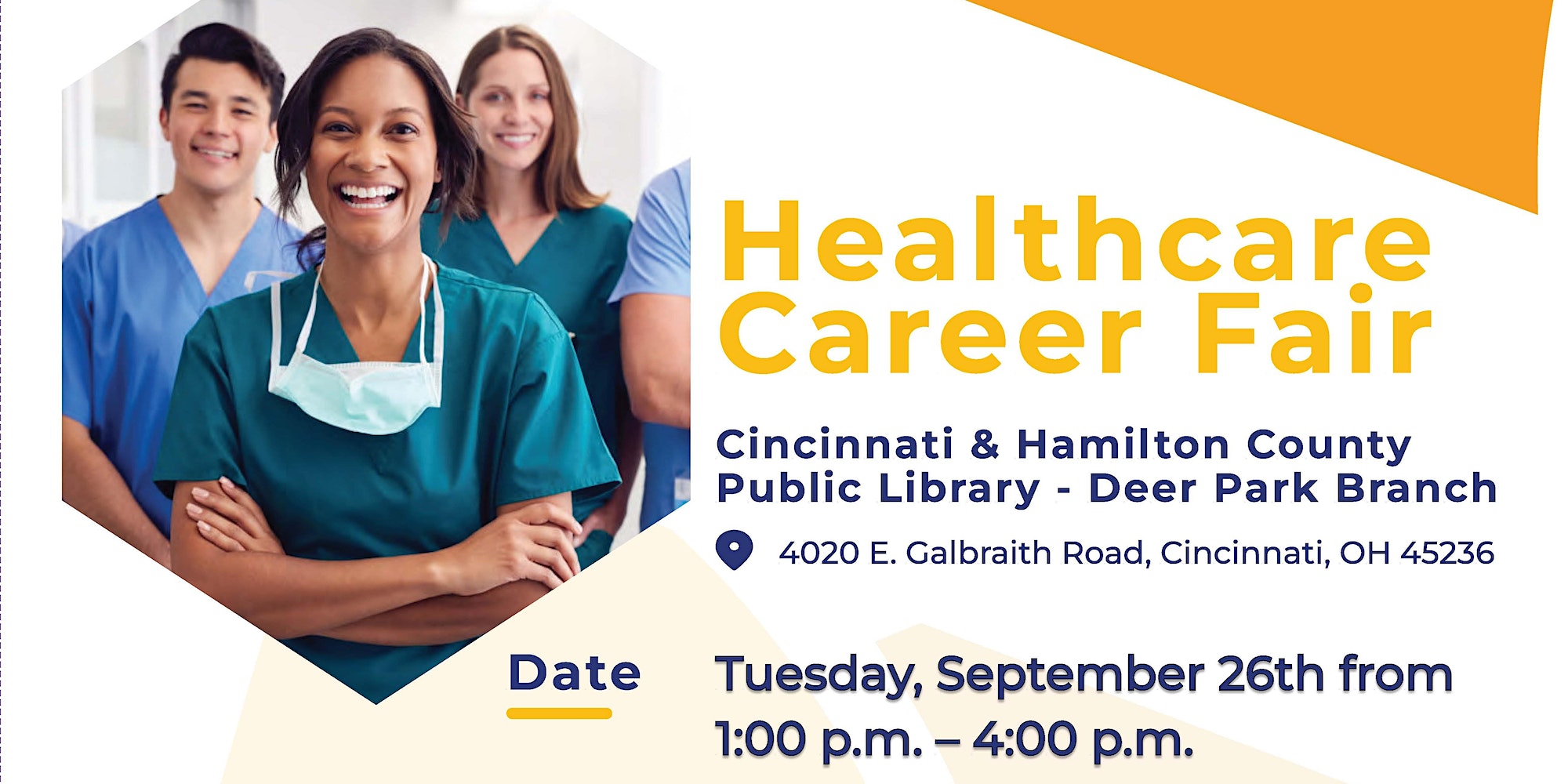 The Cincinnati Healthcare Career Fair offers attendees the unique opportunity to connect directly with top employers and esteemed educational institutions in the healthcare sector. Whether you're a seasoned professional or just starting your healthcare journey, this event is your gateway to a world of possibilities.
Positions Employers Will Be Recruiting For:
• Registered Nurse
• Licensed Practical Nurse
• Medical Assistant
• Imaging
• Sterile Processing
• Medical Lab Tech
• Pharmacy Technician
• Respiratory Therapist
• Surgical Technician
Participating Employers and Educators:
• Carespring
• Cincinnati Children's Hospital Medical Center – Cincinnati, OH
• Cincinnati State Technical and Community College
• Galen College of Nursing
• Good Samaritan College of Nursing and Health Science
• Great Oaks Health Professions Academy
• Health Care Management Group
• Life Enriching Communities – Twin Lakes and Twin Towers
• Maple Knoll Communities, Inc.
• Mercy Health
• Mercy Neighborhood Ministries
• Otterbein SeniorLife – Maineville
• Talbert House
• The Christ College of Nursing & Health Sciences
• The Christ Hospital Health Network
• The Urban League of Greater Southwestern Ohio
• TriHealth
• UC Health
In addition to networking with potential employers and educators, attendees can take advantage of complimentary one-on-one resume assistance from 11:30 AM to 1:30 PM, ensuring your credentials shine in the competitive healthcare job market.
"We are thrilled to bring together top healthcare employers, educators, and eager job seekers at the Healthcare Career Fair. We're providing a one-stop shop for those seeking fulfilling careers in healthcare and for organizations dedicated to fostering the next generation of healthcare professionals," shares Nicci Weber, Vice President, Human Resources & Administrative Services at The Health Collaborative. "Together, we're shaping a brighter future for our community's health."
Take advantage of this golden opportunity to jumpstart your healthcare career and take the next step toward your dream job.
###
About The Health Collaborative:
The Health Collaborative is the region's only healthcare organization that convenes all the hospitals, health systems, and healthcare stakeholders. We bring together those invested in health and healthcare improvement and provide actionable data to build a healthier Greater Cincinnati and Northern Kentucky. For more information, please visit: healthcollab.org.