Coronavirus (COVID-19)
Latest news, information, and resources
The Health Collaborative is taking an active role to support our region during the current COVID-19 outbreak through our Greater Cincinnati Disaster Preparedness Coalition (DPC). The DPC's primary role is to facilitate regional coordination and collaboration among all Coalition members in their response to COVID-19. Members include hospitals, emergency medical services, emergency management, public health and other community partners in the TriState region.
Find Out Your COVID-19 Risk
Try our free screening tool to find out your risk level, based on your symptoms and travel, and get the most appropriate care recommendations.
Resources
Personal Protective Equipment
DONATE: If you have extra PPE that you will not be using (N95 masks, gloves, etc.) click on DONATE. UC Health has set up an email address for donations. Please note that food and nonperishable items may not be accepted in clinical care settings. Due to federal and state healthcare laws, we cannot accept cash or gift cards.
USE CALCULATOR: A tool designed by the CDC to help healthcare and non-healthcare systems, such as correctional facilities, track how quickly PPE will be used at those facilities. CLICK HERE TO CALCULATE.
Links
Translated
Gen-H Connect
The Gen-H Connect team at THC is here to support our partners during the current COVID-19 outbreak.  The following resources and guidance may be helpful in maintaining health related social needs screening and providing resources to your patients during this time.  We will update these resources as necessary and share updates from CMS as we receive them.
Gen-H Connect Protocol During COVID-19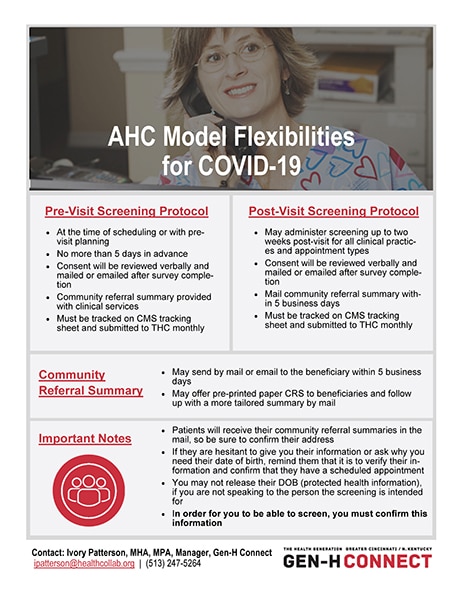 For additional questions or support please contact GenHConnect@healthcollab.org.
LINKS & RESOURCES:
Testing for COVID-19
Two kinds of tests are available for COVID-19: viral tests and antibody tests.
A viral test tells you if you have a current infection.
An antibody test tells you if you had a previous infection.
An antibody test may not be able to show if you have a current infection, because it can take 1-3 weeks after infection to make antibodies. We do not know yet if having antibodies to the virus can protect someone from getting infected with the virus again, or how long that protection might last.
Who should be tested
To learn if you have a current infection, viral tests are used. But not everyone needs this test.
Most people will have mild illness and can recover at home without medical care and may not need to be tested.
CDC has guidance for who should be tested, but decisions about testing are made by state and local health departments or healthcare providers.
If you have symptoms of COVID-19 and want to get tested, call your healthcare provider first.
You can also visit your state or local health department's website to look for the latest local information on testing.
Although supplies of tests are increasing, it may still be difficult to find a place to get tested.
Criteria for Discontinuation of Isolation Precautions
CDC has released non-test-based criteria for discontinuation of home isolation and criteria for return to work for healthcare personnel with confirmed or suspected COVID-19. The non-test-based strategies include:
At least 3 days (72 hours) have passed since recovery defined as resolution of fever without the use of fever-reducing medications and improvement in respiratory symptoms (e.g., cough, shortness of breath); AND,
At least 7 days have passed since symptoms first appeared.
For questions, call the Ohio Department of Health's 24/7 hotline at 833.427.5634 (833.4.ASK.ODH).
For testing locations in Ohio, click here. 
For testing locations in Kentucky, click here.
Visitor Restrictions
To keep patients and residents in our region safe, visitation restrictions have been updated. If you are planning to make a visit to a hospital, please contact the hospital directly or visit their website for more specific restrictions by location.

Visitors for Emergency Department & Hospitalized Patients:
Admitted patients may have one (1) support person / family member accompany them.

The visitor must remain in the patient's room and contact nursing staff when leaving.
Patients are allowed one visitor per day.
Visitation hours are 9a.m. – 7p.m.
Visitors must be older than 15 years of age.
Potential visitors should review CDC and state health department guidelines if visiting a patient with advanced age and chronic medical conditions and avoid visiting hospital if these apply.
Patients with suspected or confirmed COVID-19 will not be allowed to have a visitor or support person.
Visitation or support persons for office visits may vary by provider. Patients are encouraged to check with individual providers to ensure they are clear on their provider's policy.
Screening & Mask Guidelines
Visitors must wear a mask at all times.

Masks must fully cover the nose and mouth.
Patients and visitors may provide and wear their own mask or will be required to accept and wear the mask provided by the hospital facility.
If a visitor refuses to wear a mask, visitors may be asked to leave the facility.
Exceptions may be made on an individual basis for those who are unable to wear a mask due to health or disability issues.

All visitors will be screened for symptoms or exposure history.
Visitors will be asked to leave the facility if they have had symptoms in the past 24 hours or exposures in the last 14 days.
Visitors must wash their hands, or use hand sanitizer, before and after leaving rooms and hospital buildings.
WAYS TO HELP DURING THE PANDEMIC
Purchase a "Strength in Unity" Shirt to benefit the YMCA of Cincinnati Emergency Response Fund.
Reach out with a card, letter, or drawing to patients and residents who can't receive visitors, and consider a donation to Council on Aging to help put meals on the tables of seniors whose resources have been limited by this pandemic.
Donate blood, platelets, or convalescent plasma at your local Hoxworth location – see details below.
Donate personal protective equipment (PPE). Please email chyson@healthcollab.org.

Reach out before donating items – agencies are being overwhelmed with items they may not be able to use/accept.
CONVALESCENT PLASMA DONATION
Hoxworth Blood Center is seeking individuals who:
Have recovered from a documented infection of COVID-19 and have been symptom free for at least 28-days.
Since testing has been limited in the region, individuals who believe they had COVID-19 are also encouraged to donate at this time. The product will be tested for antibodies following donation. If your plasma does not contain high levels of antibodies to COVID-19, it may be used to help save the lives of other patients.
If you tested positive for COVID-19, or believe you had COVID-19, and have been fully recovered for at least 28 days, please click here to fill out the eligibility form and get scheduled for a donation today. Read our press release here.
If you are a physician, hospital representative or patient looking for more information, please email HoxCovid19@uc.edu.
Congressman Wenstrup
FOR PATIENTS
FOR DOCTORS
Frequently Asked Questions
What is COVID-19?
COVID-19 is a virus strain, first identified in Wuhan, Hubei Province, China, that has only spread in people since December 2019.
Health experts are closely monitoring the situation because little is known about this new virus and it has the potential to cause severe illness and pneumonia in some people. Get COVID-19 resources in 35 languages here.
How does COVID-19 spread and what are the symptoms?
COVID-19 is primarily spread through respiratory droplets. That means to become infected, you generally must be within six feet of someone who is contagious and come into contact with these droplets. It may be possible to get COVID-19 by touching a surface or object that has the virus on it and then touching your mouth, nose or possibly eyes. Symptoms of COVID-19 appear within two to 14 days after exposure and include fever, cough and shortness of breath.
How long does it take for symptoms of the COVID-19 to appear?
The CDC believes that symptoms of COVID-19 may appear in as few as two days, or as long as 14 days after exposure.
How is COVID-19 treated?
There is currently no FDA approved medication for COVID-19. People infected with this virus should receive supportive care such as rest, fluids and fever control, to help relieve symptoms. For severe cases, treatment should include care to support vital organ functions.
Prevention
Is there a vaccine?
Currently, there is no vaccine available.
How can I best protect myself?
Practice the following:
Wash your hands often with soap and water for at least 15-20 seconds. If soap and water are not available, use a hand sanitizer with at least 60% alcohol.
Avoid touching your eyes, nose and mouth with unwashed hands.
Avoid close contact (within 6 feet) with people who are sick.
Stay home when you are sick.
Cover your cough or sneeze with a tissue, then throw the tissue in the trash.
Standard household cleansers and wipes are effective in cleaning and disinfecting frequently touched objects and surfaces.
It's currently flu and respiratory disease season and CDC recommends getting vaccinated, taking everyday preventive actions to stop the spread of germs, and taking flu antivirals if prescribed.
Want to learn more about what you can do to protect you and your family from COVID-19?
Watch an interview with Cleveland Clinic infectious disease specialist Frank Esper, MD highlighting what you need to know about COVID-19 prevention: Watch now.
I have a chronic condition that puts me at high risk. How can I best protect myself?
Unfortunately, there is not yet a vaccine that can prevent COVID-19, so we cannot prevent the disease.
The coronavirus that causes COVID-19 is new, so we don't yet understand exactly how it impacts specific groups of high-risk people. But, those who are thought to be most susceptible to serious complications of COVID-19 include people who:
Are over age 65.
Have cancer.
Have hypertension.
Have lung disease.
Have diabetes.
Have heart disease.
Have another condition that compromises the immune system.
Are taking medications that suppress the immune system.
But there are things you can do to minimize your risk if you have a weakened immune system or are immunocompromised. Find out what steps you should take if you're considered high risk
Should I wear a face mask? Will that help protect me?
If you are sick: You should wear a face mask when you are around other people (e.g., sharing a room or vehicle) and before you enter a healthcare provider's office. If you are not able to wear a face mask (for example, because it causes trouble breathing), then you should do your best to cover your coughs and sneezes, and people who are caring for you should wear a face mask if they enter your room. Learn what to do if you are sick.
If you are not sick: You do not need to wear a face mask unless you are caring for someone who is sick (and they are not able to wear a face mask). Face masks may be in short supply and they should be saved for caregivers.
Appointments & Access
I have an appointment at a hospital or doctor's office and I am concerned about COVID-19. Should I cancel my appointment?  
Area hospitals are taking necessary precautions on behalf of patients, visitors and caregivers. The Ohio Governor's office, in collaboration with the Ohio Hospital Association, announced new guidelines on postponing non-essential surgeries, a related procedures, for adult and pediatric patients. At this time primary care providers are reviewing patient records and encouraging all of our Ohio patients with non-essential primary care appointments scheduled to take place in the next few weeks to consider rescheduling for three months out.
What surgeries and procedures are "non-essential"?
Examples of non-essential surgeries and related procedures include deferrable bronchoscopy, deferrable upper and lower endoscopies, routine dental procedures, stable symptomatic problems, benign condition management, cosmetics, primary and revision joint therapy (non-infected), bariatric and elective hernia surgery and urogynecology.
Surgical cases such as urgent or emergency surgery, cancer surgery or cancer evaluation, infected joints, or other indications consistent with the department of health guidelines above will continue.
Preparedness
Is The Health Collaborative concerned about shortages of any medical supplies or medications?
As of March 25, we have adequate Personal Protective Equipment (PPE) that our region's Disaster Preparedness Coalition distributes according to need.  The Ohio Department of Health has set up a 24/7 COVID-19 hotline for those with questions or concerns as well: 833.427.5634 (1.833.4ASK.ODH).
Travel
For the latest information on travel information, alerts and warnings, please visit the CDC's Coronavirus Disease 2019 Information for Travel website.
What if my family member traveled from a country or had a layover in a country with widespread or sustained transmission in the last 14 days?
If your family member traveled from or had a layover in a CDC-designated high-risk country in the last 14 days and feels sick with fever, cough or has difficulty breathing, use our screening tool or call/message your primary care physician.
Your family member should:
Seek medical care right away. Before they go to a doctor's office or emergency room, call ahead and tell them about their recent travel and symptoms.
Avoid contact with others.
Not travel while sick.
They should cover their mouth and nose with a tissue or their sleeve (not their hands) when coughing or sneezing.
Wash hands often with soap and water for 15-20 seconds. Use an alcohol-based hand sanitizer with at least 60% alcohol if soap and water are not available.
Should I travel internationally?
CDC provides recommendations on postponing or canceling travel. These are called travel notices and are based on assessment of the potential health risks involved with traveling to a certain area. View the CDC list of destinations with travel notices.
What if I must travel for personal reasons?
If you must travel for person reasons, practice the following precautions:
Avoid contact with people who are sick.
Avoid animals (alive or dead), animal markets and products that come from animals (such as uncooked meat).
Wash hands often with soap and water for 15-20 seconds. Use a hand sanitizer with at least 60% alcohol if soap and water are not available.
Older adults and travelers with underlying health issues may be at risk for more severe disease.
Do you think you may have Coronavirus (COVID-19)?*
COVID-19 is an emerging, rapidly evolving situation. The Health Collaborative is working with public health partners at all levels and will continue to provide updated information as it becomes available.
Take these steps:
Start with a virtual visit – call your primary care physician or insurance provider and see what your options are. You will be advised what to do next.
Call ahead before going in person to any physician's office or clinic location.
Don't go to your local emergency department for COVID-19 testing. The emergency department is only for those who need the most critical care.
*If you have chest pain, shortness of breath, dizziness, a severe headache or other potentially life-threatening problems, go to the nearest emergency department or call 911.
For testing locations in Ohio, click here.
For testing locations in Kentucky, click here.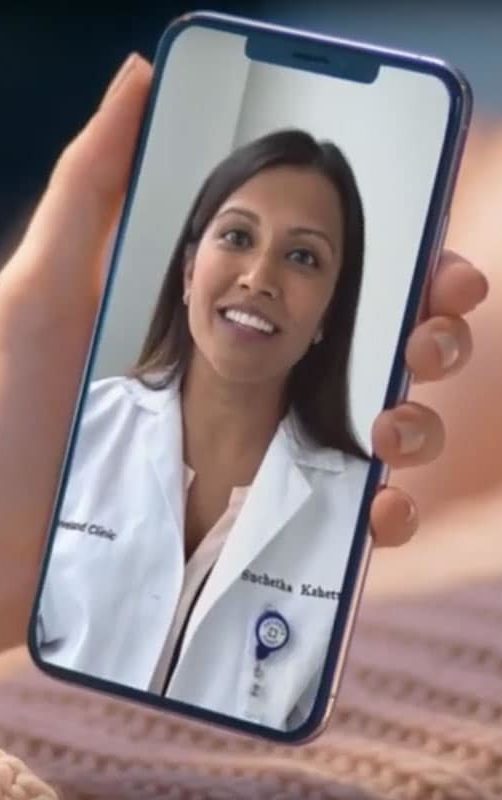 STATE HEALTH DEPARTMENT GUIDANCE
OUR LATEST COVID-19 HEADLINES
The caring staff at our area nursing homes are heroes who do not seek recognition but an understanding of the ongoing battle they face.
read more