Even though the weather doesn't feel like it – this week marks the first days of summer! As vaccination rates continue to climb, individuals and families are booking trips and resuming travel plans all across the United States.
It is important to note that even though COVID-19 Health Orders are removed in some states – there are still a few Federal mandates being enforced.
A federal rule requires that all air, rail, and bus travelers over the age of 2 must wear a mask. This applies to both bus and rail stations as well as airports. This policy is set to expire on September 14, 2021.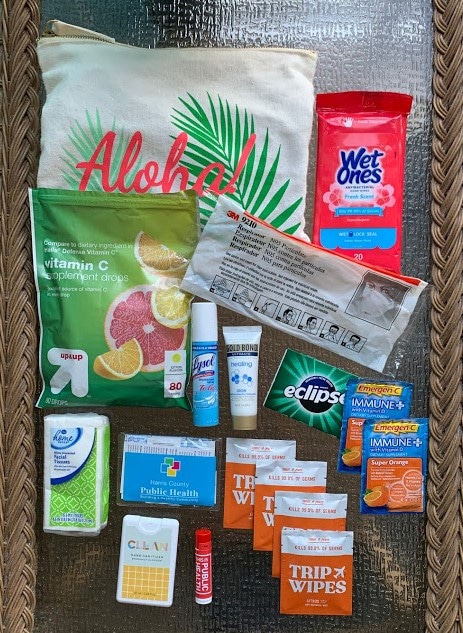 Traveling during a pandemic requires us to pack a few more items than normal – but they are a necessary part of keeping you and your family safe. The above image includes items suggested by health experts to keep you safe on public transportation.
A properly fitting mask

Make sure it is comfortable for periods of longer wear.
And always bring a backup!

Antibacterial wipes

Wipe down any surfaces that previous passengers may have touched.

Hand Sanitizer

Easy to use when handwashing is not readily available.
Extra travel comfort items:
Vitamin drops or immune support supplements
Tissues
Anti-bacterial spray
Lotion – especially for those dry hands from frequent hand washing
Chewing gum
Lip Balm
Mini First-Aid kit
Pack items that you are familiar and comfortable with to decrease any allergic reactions. And remember, you are allowed to bring a quart-sized bag of liquids, aerosols, gels, creams and pastes in your carry-on bag through airport security as long as they are 3.4 ounces (100 milliliters) or less per item.
Learn more on keeping your family safe and healthy this summer!