Gravity Diagnostics has always taken a forward-thinking approach to doing whatever it takes to improve patient health through healthcare technology and innovation.
The company believes that at-home testing is a critical component to creating a future where healthcare is more personalized.
The GetMyDNA brand for pharmacogenetic testing was specifically created to pursue this vision.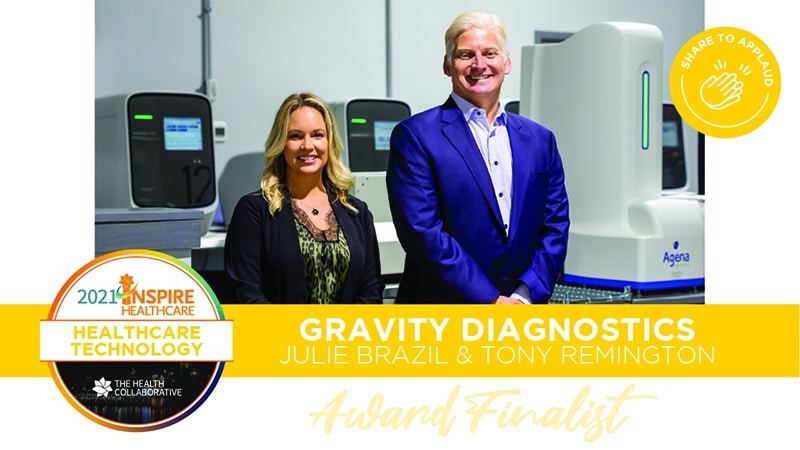 Pharmacogenetic testing analyzes an individual's DNA to identify genetic differences that can affect how an individual responds to particular medications. This information allows a provider to prescribe medication more effectively by either raising or lowering dosages to better match the patient's metabolism or even switch to a different drug entirely. GetMyDNA was launched to eliminate this key frustration encountered by doctors and patients alike in medication management.
When COVID-19 arrived, the Gravity Diagnostics team realized the need for GetMyDNA would become ever more important. Since GetMyDNA's at-home collection kit provided the gold-standard anterior nasal swab PCR (Polymerase Chain Reaction) test that could check for genetic material produced by the virus and thus determine whether an asymptomatic or symptomatic individual is infected with COVID-19, its suddenly became another vital weapon in the fight against the disease.
In March 2021, Gravity Diagnostics received FDA emergency use authorization (EUA) approval for GetMyDNA. This gave individuals access to an affordable COVID-19 home test kit with up to same-day turnaround times from a high quality and reliable (CAP-accredited and CLIA-certified) laboratory. With the availability of overnight shipping on test kit orders, this helped people get the results they needed in a timely manner so they could get back to work, school, and/or travel.
In May of 2021, Gravity Diagnostics offered another testing option by partnering with the Commonwealth of Kentucky to launch its COVID-19 testing drive-through site. This drive thru, the first of what is now over 25 such drive thru test sites across Kentucky and Indiana, is open 7 days a week, offers same-day results at no cost, and is open to the public with no appointment necessary.
Beyond testing innovations, Gravity has also invested in genome sequencing technology to help detect and report SARS-CoV-2 variants. Genome sequencing, also known as Next-Generation Sequencing (NGS), uses various methodologies to acquire data about the nucleic acid composition and DNA sequence of a viral sample. This sequencing helps accurately track and identify new mutations in SARS-CoV-2 variants. Gravity Diagnostics has leveraged its technology to help provide as much information to public health as they can while reporting this data to state health departments and the CDC. This technology investment is completely out of pocket and the variant tracking is performed by Gravity solely to help inform the public about their health and help track emerging variants that could be more transmissible or cause more severe illness.
The Health Collaborative is proud to honor Gravity Diagnostics as a nominee for the 2021 Healthcare Technology Award. The team's dedication to using technology to solve complex healthcare issues is making personalized healthcare more accessible and improving public health in the process.