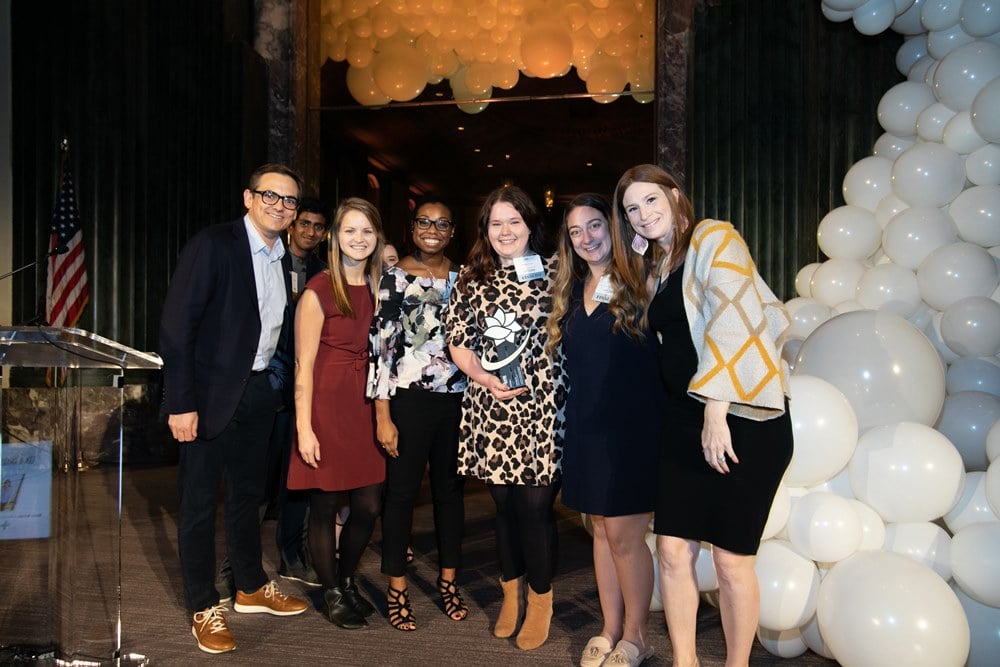 By Amy Crowley
The Health Collaborative is proud to present the Mercy Serves AmeriCorps Program with the 2019 Gen-H Award.
This award recognizes an individual, team or organization that has demonstrated progress on three key goals to create a region that is healthy by design. The Mercy Serves AmeriCorps program tackles all three: addressing social determinants of health; designing healthcare that is accessible, coordinated, continuous and comprehensive; and empowering community-based health and wellness initiatives.
The opioid epidemic continues to plague our communities and looking for solutions is on the minds of many. For Mercy Health and AmeriCorps that thinking has turned into a program — called Mercy Serves AmeriCorps — that has helped more than 1,000 patients with education and treatment referrals.
The concept of Mercy Serves AmeriCorps is critical: groom the next generation of healthcare leaders to think differently about healthcare by exposing them to patients who need care at their most vulnerable and challenging time.
"This unique partnership between Mercy Health and AmeriCorps leverages the infrastructure and momentum of the national service movement to respond to a critical community health need," said Gina Hemenway, Executive Director Community Health at Mercy Health.
A Supportive Learning Environment
This year-long program includes up to ten Mercy Serves Corps members who are college seniors or recent graduates looking to start their careers or enter grad school in a health-related field. The program places these Corps members in a learning environment to work alongside Emergency Department staff to provide critical support to patients with opiate-use disorders. Corps members screen patients and provide brief interventions and referrals for treatment. They then follow patients after discharge, serving as a supportive resource throughout the treatment process.
"Mercy Serves Corps members serve a critical role in EDs as part of Mercy Health's broader opiate epidemic response," said Lainie Kast, Mercy Serves Program Manager. "They spend intentional time with patients, motivating them to address their addiction, enter treatment, and overcome barriers to their recovery. They also receive dedicated professional development throughout their service term and access to the entire health system, including the Community Health Department, leadership, job shadowing, and much more. This service experience is something members appreciate and use for a long time."
Mercy Serves is the only AmeriCorps program in the country working within an acute-care setting. In many ways, AmeriCorps members who are able to take the time to get to know their patients is a sharp contrast to what the traditional ED care, pace and culture has been. Because their unique role allows them to spend more time with each patient, they have served as a therapeutic presence for patients who have lost their personal support networks.
"Through this program, we've experienced the power of listening to someone with an open heart and open mind."
"Through this program, we've experienced the power of listening to someone with an open heart and open mind," said Jacob Henderson, Mercy Service Corps member and University of Texas at San Antonio (BA) and University of Cincinnati (MS) graduate. "It's a really powerful thing to lend an ear and devote your time to someone who is vulnerable and in a desperate situation. Many of the patients we interacted with were truly grateful and thankful that someone is actually doing something about this crisis."
Caring for the Whole Person
Mercy Serves Members treat patients with a whole-person, chronic-disease model, including addressing emotional and social barriers to treatment and coordinating across settings to ensure all those who are ready for treatment get the care they need.
The second class of Mercy Serves Corps members who just graduated in August of this year, provided more than 9,500 hours of coverage in six Mercy Health Emergency Departments and supported over 1,300 patients. In addition to the aggregate data, success in this program is measured one patient, one story at a time. The invaluable learnings and information is then shared with colleagues, donors, and leadership to exemplify the essence of the Mercy Health mission.
Mercy Serves AmeriCorps is truly a program that helps us create a region that is healthy by design and proves that by promoting the power of the human story we can help shift the existing paradigm and stigma attached to the addiction.
Congratulations to all involved with this amazing program – your commitment to community & population health has us feeling INSPIRED.