The Health Collaborative and Nurses on Boards Coalition (NOBC) Unite for Strategic Partnership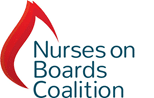 The Health Collaborative is proud to announce our partnership with NOBC, and to be recognized as a NOBC Healthcare Leadership Organization Strategic Partner. Consistent with our mission, this new alliance demonstrates our commitment to work together to improve health in communities across the nation through the service of nurses on all types of boards.
What is NOBC?
The Robert Wood Johnson Foundation and AARP joined forces to form the Nurses on Boards Coalition (NOBC) in 2014. Earlier this year, NOBC achieved the founder's key strategy to fill 10,000 board seats by nurses in  2020, and raise awareness that all boards benefit from the unique perspectives of nurses to achieve the efficient and effective health care systems at the local, state, and national levels.
Interested in Serving on a Board?
Consider an organization where you are passionate about their mission.  What organization in your community might benefit from your skills, experience and qualifications?  Approach them to express your interest in serving as a potential board member. You can also visit NOBC website to register your interest.
Already a Board Member?
If you are a nurse and are currently serving on a board, please register on the NOBC website. Please be sure to include all the boards you currently serve on including corporate, governmental, non-profit, entrepreneurs, advisory or governance boards, commissions or appointments that have fiduciary or strategic responsibility.
Other Ways You Can Support Nurses on Boards