By Christa Hyson
The Good Samaritan Free Health Center team is being celebrated as a finalist for the 2018 Inspire Informatics Solutions Award.
Each year, The Health Collaborative recognizes the healthcare heroes in our community at the Inspire | Healthcare Celebration ans Awards Ceremony. Award categories include Diversity and Inclusion, Gen-H (population health), Informatics Solutions (health information technology), and Leadership in Quality Improvement. This year's sold-out event is being held on November 8 at The Center downtown.
The Informatics Solutions Award acknowledges the individual, team or organization streamlining processes and improving care through the innovative use of health information technology.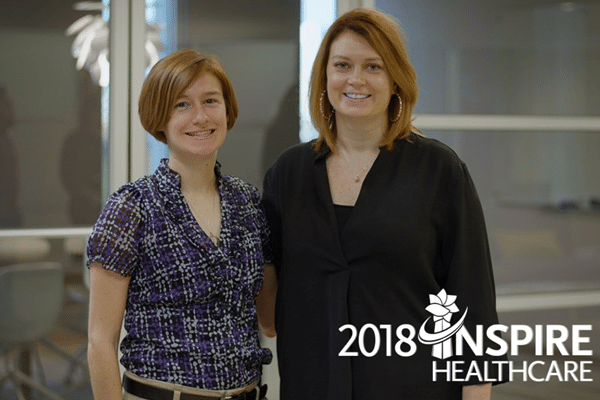 The Good Samaritan Free Health Center (GSFHC) is the only free health center in Hamilton County and provides care to the uninsured, non-Medicaid/Medicare-eligible adults who have an income less than 200% of the poverty level. It is also the largest urban free health center in Ohio averaging 1,268 appointments made each month in FY 2019.
The GSFHC provides comprehensive primary care, including mental health, nutrition, dentistry, pharmacy, and optometry. Funding for the center's services is solely through philanthropic dollars and the generous volunteer hours of physicians, nurses, and many other professionals. The team at the GSFHC has identified a need to address part of their population served who are 'super-utilizers' of the acute care setting. To meet the needs of this population, the team believes care can be better managed through addressing patient engagement and providing resources to address barriers for patients to meet their health goals. These patients are educated on how to best utilize the emergent care system, they are linked to social services to decrease preventable emergencies, and they understand what a healthcare home is at the GSFHC.
Saving the ED for True Emergencies
The GSFHC has taken advantage of the "TH Find Emergency Department and Inpatient Discharge Patients," report by focusing on ways to reduce Emergency Department admissions of new patients enrolled at the Free Health Center. Since October 2017, there have been 545 new patients enrolled. These 545 patients have accounted for a total of 169 Emergency Department visits in the 3 months leading up to their new appointment. Using the TH report, these same patients have accounted for 25 total Emergency Department visits in the 3 months after their appointment.
The daily report has allowed for the GSFHC to immediately be notified of any Emergency Department visit/hospital discharge and has resulted in prompt and appropriate responses to a patient's acute care needs as well as follow up appointments at the GSFHC. Through successful implementation of daily report utilization, repeat ED visits are decreased and patients receive more efficient care at the GSFHC. The According to the Health Care Cost Institute, the average spending on an emergency room visit was $1,917 in 2018. Thus, the decrease of 144 emergency room visits in a 3 month time frame has led to a reduction of $276,048 in health care costs.
Meet the Team
The Good Samaritan Free Health Center team includes: Dr. Stephen Eby, Medical Director; Dr. Paula Lafranconi, Assistant Medical Director; Linda Smith Berry, Executive Director; Anne Geiler, Dental Coordinator/Back Office Coordinator; Melissa Carpenter, Front Office Coordinator; Kyla Maddox, Licensed Social Worker; Annie Klapheke, Registered Dietician; Ashley Rodriguez, Medical Assistant; Sandy Gleeson R.N.; Oscar Ancalmo, Community Health Worker; and Joe Burger, Intern.
The Health Collaborative is proud to honor The Good Samaritan Free Health Center and its dedicated staff, as a finalist for the 2018 Inspire | Healthcare Award in Informatics Solutions.