Neha Matta, JD has been a member of The Health Collaborative (THC) family since 2018, when she was brought on board to assist with contracts and provide support to General Counsel.
Since that time, she has been promoted to head up the department and serve as the organization's Chief Privacy Officer. She leads our legal and risk management activities including HIPAA compliance, contract drafting/negotiation, and employment law.
Before coming to THC, Neha practiced insurance defense litigation in Indianapolis for eight years. She graduated from George Washington University and obtained her JD from the University of Cincinnati College of Law. She is currently pursuing her Masters in Business Administration at Xavier University.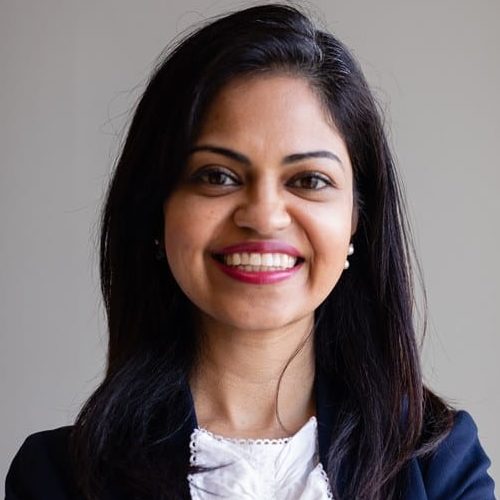 We asked Neha to take a few minutes to let us know what's on her mind and how she's spending her time these days (besides navigating a pandemic). 
Hey there, Neha! Thanks for your time. Let's start off with the fun stuff:
Q: What's your favorite stress-relieving activity outside of the office, and why?
A: I love exercising—mainly swimming, pilates, yoga. Helps to sweat out the stress! I've also been trying to get outside and walk with friends when weather allows, for safe socially-distant socializing.
Q: What book are you currently (or most recently) reading?
A: The autobiography of Gandhi: Experiments with Truth, and The Likeness, a murder mystery.
Q: What would your perfect meal entail?
A: TACOS on top of TACOs enveloped in more TACOS. Mezunte and Tacos Locos are staples of any proper diet.
Q: What is your favorite Netflix or Hulu show?
A: COBRA KAI, hands down 😊
Q: If you could drink one drink other than water for the rest of your life, what would it be?
A: I'm really into this Mango Bubbly stuff right now! I guess it still counts as water but so refreshing.
Q: What did you want to be when you grew up as a child?
A: A supreme court justice. If I had to daydream all over again, I'd want to be a famous acoustic guitarist.
Q: Did you play any sports in high school or college?
A: Yes, I'm a tennis nerd. I love playing tennis and watching tennis. I played varsity tennis in high school. Mainly singles because I'm a ball hog.
Q: What was the first concert you ever went to?
A: Third Eye Blind & Incubus. It was spectacular 😊