A rapid response time is everything when it comes to saving a victim of stroke. From the timing of the first responders to the delivery of medicine in the Emergency Department (ED), every moment could mean the difference between restored life and disability or loss of life.
At Mercy Health – Cincinnati, minimizing this critical timing has been prioritized system-wide and the results have been life-saving.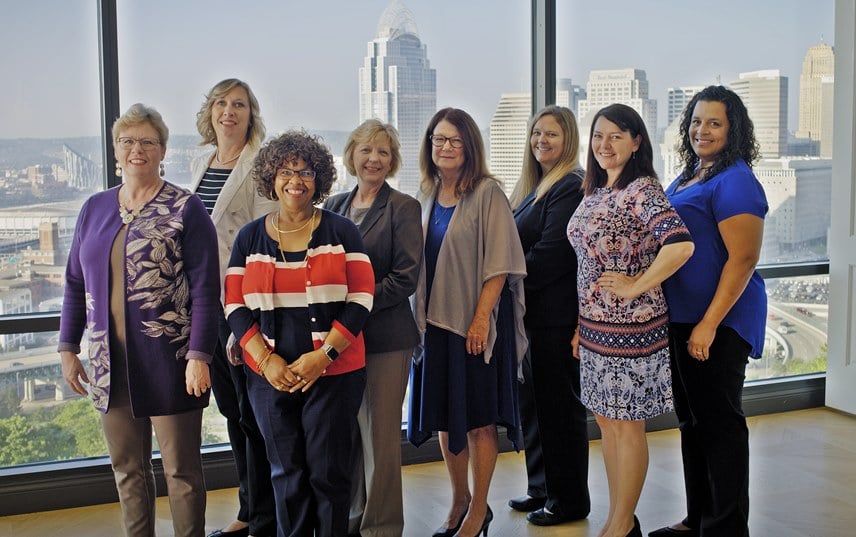 The American Heart/American Stroke Association's  clinical practice guidelines recommend the administration of alteplase for ischemic stroke within three hours of the onset of symptoms, with an extended window of 4.5 hours. The Mercy Health team adopted a goal to administer alteplase in the ED in less than 60 minutes. Restoring blood flow to the threatened area is the utmost priority.
Due to the concentrated efforts of team members Stephanie Meade, Vanessa Vonderhaar, Melissa Samuelson, Ramona Cheek, Jennifer Jackson, Danielle Wagster, Deborah Ruehl, Bonnie Hollandsworth, and Amy Meiners, four Mercy Health hospitals in the Cincinnati region obtained Primary Stroke Center Certification in 2017 through The Joint Commission. They include Mercy Health — Anderson Hospital; Mercy Health — Fairfield Hospital; Mercy Health — West Hospital; and The Jewish Hospital — Mercy Health. The Joint Commission's Certificate of Distinction for Primary Stroke Centers recognizes exceptional efforts toward fostering better outcomes for stroke care and establishing critical elements to achieve long-term success.
In the two years since the implementation of these stroke care goals, five Mercy hospitals and medical centers have also obtained The Joint Commission's Acute Stroke Ready Hospital Certification: Mercy Health — Clermont Hospital; Mercy Health — Harrison Medical Center; Mercy Health — Mt. Orab Medical Center; Mercy Health — Rookwood Medical Center; Mercy Health — Queen City Medical Center.
This means that all of Mercy Health's Cincinnati area hospitals and medical centers are either Primary Stroke Centers or Acute Stroke Ready.
In addition to these advancements, the health system's Door to Needle Challenge is helping providers improve timing on stroke identification. Starting in April 2018, stroke coordinators challenged nurses and community EMS partners to recognize signs of stroke and promote timely treatment. This lighthearted, educational competition has resulted in the delivery of more vital treatment within the appropriate, recommended timeframe. At Mercy Health, the fastest treatment delivery times during an ischemic stroke are between 18 and 47 minutes with an average time of 44 minutes for 2019 YTD.
"All of our team members are committed to providing outstanding patient care," said Stephanie Meade, Chief Nurse Executive, Mercy Health – Cincinnati. "The training and the protocols we have implemented have elevated stroke awareness among all employees, as well as patients and visitors, ultimately improving the community's overall health."
In 2019 the Mercy system again advanced its certifications with the following prestigious recognitions: The Jewish Hospital – 2019 Get With the Guidelines Stroke Gold Plus with Honor Roll; Anderson Hospital – 2019 Get With the Guidelines Stroke Silver Plus with Honor Roll; West Hospital – 2019 Get With the Guidelines Stroke Gold Plus with Honor Roll Elite; Fairfield Hospital – 2019 Get With the Guidelines Stroke Silver Plus with Honor Roll Elite.
Congratulations to all Mercy stroke care team members! The Health Collaborative is proud to recognize you as hometown healthcare heroes and finalists for the 17th Annual Richard M. Smith MD Leadership in Quality Improvement Award.
Watch for more articles profiling the work of our award finalists throughout October, as we lead up to the 2019 Inspire Healthcare Dinner and Awards Celebration.