In this collaboration with IBM's Big Data and Analytics Hub, Health Care Access Now's Sarah Mills describes how services from The Health Collaborative (THC) help Community Health Workers address social determinants and client barriers to better health.
IBM recently approached THC's Dwight Blubaugh, Ph.D, Senior Data Analyst, to profile his innovative use of its InfoSphere Master Data Management solution in  curating THC's Master Patient Index.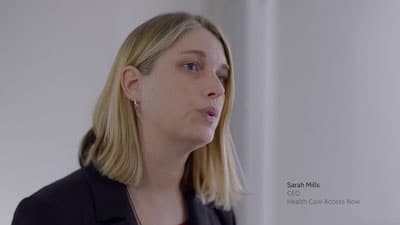 Sarah Mills, CEO, Health Care Access Now
Blubaugh has spent the past several years combing through millions of data points encompassing now 8.95 MILLION lives across the Tristate region, all the while looking for discrepancies, removing duplicates, and combining divergent records belonging to the same person.
In a chance conversation at a conference in Fall 2019, it became clear to IBM that Dwight's story was an important one to tell – and in order to get at why, they needed to show how his work has benefited others and their stories.
IBM tapped Sarah Mills, Chief Executive Officer at Health Care Access Now (HCAN), to help tell those stories. HCAN is a Cincinnati agency working to address social determinants of health and remove barriers to care, and using THC services to help get it all done. THC's hb/notify product alerts HCAN's Community Health Workers (CHWs) when their patients seek emergency department care virtually anywhere in the region, allowing the CHWs to follow up quickly and offer support.
Read the fascinating story of THC's partnership with HCAN and how IBM's platform is helping Greater Cincinnati improve patient health outcomes and provider workflows on the IBM Big Data & Analytics Hub Blog:
"We rely on the information received from healthcare providers in order to do a good job for the clients…The Health Collaborative quickly provides us with data we can trust thanks to their Master Patient Index, built on IBM's InfoSphere Master Data Management. Through our integration with their system, client alerts pop into the case dashboard enabling us to reach out to that client very quickly."