The Health Collaborative a Cincinnati Enquirer
Top Workplace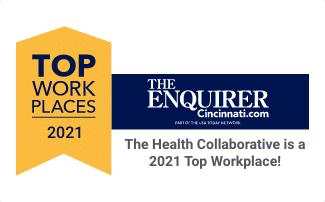 Press Release
June 11, 2021
MEDIA CONTACT
Ashley Auciello
Manager, Brand & Content
(513) 225-2067
Cincinnati, OH – The Health Collaborative has been recognized as a Cincinnati Enquirer Top Workplace 2021.  The annual Top Workplaces contest highlights the Greater Cincinnati region's leading employers. The Health Collaborative is one of 135 organizations selected as top workplaces this year.
"This is a special honor for us, and one that would not be possible without the invaluable contributions of our staff," said Craig Brammer, CEO of The Health Collaborative.
The timing of the award is especially significant to the team, which was tasked with coordinating the regional response to slow the spread of COVID-19.  For the last year, The Health Collaborative partnered with its member health systems, Greater Cincinnati Disaster Preparedness Coalition, public health entities and skilled nursing facilities, working around the clock to fight the pandemic.
This distinction will boost awareness of the organization's work environment and recognition for its wide array of talented employees. The Health Collaborative is listed as a top workplace in the small-size category, with an employee count of 78 at the time of the survey. Of those, 67% took the anonymous survey, which asked questions about the work environment, leadership, culture, benefits and more.
In April, The Health Collaborative received a special Heroes in Action award for its participation and collaborative efforts with the Regional Hospital Steering Committee in the fight against COVID-19.  The award was presented as part of the annual Business Courier Healthcare Heroes Awards ceremony.
The top workplaces selection process is based solely on employee feedback by Energage, LLC through a third-party survey. The provided questions gauge the success of the nominated company or nonprofit based on 15 culture drivers. The top workplaces will be published in The Enquirer on Sunday, June 13. Visit the Cincinnati Enquirer Top Workplaces for the full list.