For the past several years, Sara Bolton MPH has served as our Senior Vice President, Programs & Services, leading operations and strategy for the organization's entire suite of member services.
As CEO Craig Brammer is fond of sharing, Sara began her career at THC 11 years ago as an intern pursuing a Masters degree in public health. Within just a year and a half, she found herself in a leadership role as local Project Director for the $2M Comprehensive Primary Care (CPC) initiative, a federal demonstration project from the Centers for Medicare and Medicaid Innovation that encompassed more than 75 Ohio practices.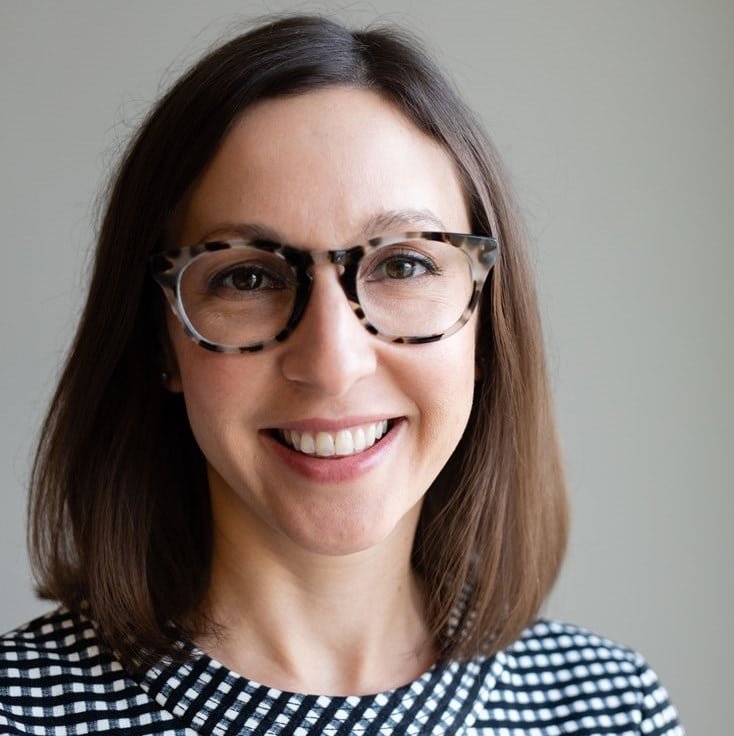 CPC examines how innovative care delivery and payment models impact cost, utilization, and quality outcomes for primary care practices. CPC "Classic" has expanded to become CPC+, which now includes over 560 primary care practices throughout Ohio and Northern Kentucky. The Greater Cincinnati – Northern Kentucky CPC+ region is the success story it has become today, largely due to Sara's leadership.
Sara holds a Master of Public Health, Management & Health Policy from the University of Cincinnati's College of Medicine, and a Bachelor of Arts, Zoology & Environmental Science from Miami University of Ohio. She is a graduate of Cincinnati USA Regional Chamber's leadership development program for emerging leaders, C-Change Class 9. Sara serves as a member of Hamilton County's Addiction Response Coalition and Hamilton County's Oral Health Coalition. She also serves on Interact for Health's Finance and Audit Committee, and Hoxworth Blood Center's Community Advisory Board.
Throughout her time at THC, Sara has developed close relationships with our member hospitals, public health, and other key community organizations. Her ability to convene on relevant topics – such as aligning efforts to combat the COVID-19 pandemic, health equity and disparity reduction, regional emergency preparedness, healthcare workforce innovation, payment reform, and more – has led to the formation of more than 50 action and affinity groups and solved countless problems in local healthcare spaces.
THC staff and friends were saddened but supportive when Sara made the decision to leave at the end of June; her young family and tons of summer fun are her main goals for the next few months – and after the ongoing demands of the COVID-19 pandemic, who could blame her.
We gathered some wishes and memories from those who know and love Sara: join us in wishing her and her family all the best – and lots of rest!
Sara, wishing you the best as you launch into new adventures. I'm so thankful for the years we've spent working together, and your guidance, support and patience through the COVID-19 pandemic. I say honestly that you kept me sane in my darkest, longest, most trying days of the pandemic response. I'm so excited to see where your new journey takes you! Without a doubt, you'll continue to do great things- personally and professionally.
Tiffany Mattingly, MSN, RN, Senior Director, Clinical Initiatives & Quality Improvement
CPC+ Regional Learning Network, OH/N.KY Region
When I first started at THC, Sara took me out to lunch so we could get to know each other and I could learn more about THC in it's new evolution (we'd just merged). She charmed me immediately with her self-deprecating humor and authentic storytelling, and I was so thankful I had a job somewhere that promoted not only women, but moms of small children. She made me feel comfortable even when I dumped my sushi in my lap halfway through lunch; I've never felt like I had to be anyone other then fully myself around her.
Kate Haralson, MPH, CPM
Senior Manager, Clinical Initiatives
Sara, THC will miss you… and selfishly, I will too. You are an excellent leader and I have learned so much from you. Your poise, strategic thinking, compassion, delivery, and your sense of humor have been an asset to this organization and I know will take you far. I am so excited to see what great things you will accomplish in this next chapter. Cheers and best wishes!
Neha Matta, JD
VP, General Counsel & Chief Privacy Officer
So very grateful to have had the opportunity to work with you and learn from you. Not only are you incredibly good at what you do, you make work fun. I can't wait to see what the future holds for you.
Shannan Schmitt
Senior Director, Communications and Development
I'm going to miss her!
I just want to thank Sara – she's been an amazing mentor, friend, and colleague – even before I worked at THC. We first met working on the Heroin Epidemic – and have now worked through a Pandemic…. Hopefully neither of us have any more 'demics in the future 😊 I wish her the best and lots of fun with her family ❤
Christa Hyson, MPH
Assistant Director, Emergency Response and Public Information Officer
Sara, I wish you the best! Your contributions to The Health Collaborative are numerous, and I'm sure, I'm only aware of a fraction of your accomplishments. I've admired your leadership, diplomacy, and your ability to identify the strengths, skills, and individuals needed in order for work to be successful. Best of luck as you move forward!
Jill Collet, MPH
Director, Performance & Operational Excellence
Sara, I will miss that beautiful smile of yours! I am so happy to hear you will be spending time with your boys this summer. You've been a great asset to this company and deserve a lot of praise for your work with COVID-19!! You will be missed.
Lisa Sladeck
Executive Office Manager
Sara, thank you for your kindness, your hard work & your great sense of humor! I wish you the best of luck and continued success wherever you may find yourself!
Enjoy the summer with your family & all that life has to offer.
Until next time 💜,
Nakia McGraw
Senior Manager, Support Services
Sara, where will we be without your smarts and sense of humor? You deserve all the happiness and family time after what has surely been the most difficult year in recent memory. Rest, relax, run after those boys. Hope this isn't goodbye, just see you later!
Amy Goetz
Manager, Communications
Sara, of course I am disappointed that you are leaving THC, but also, so happy that you are taking the opportunity to do the most important job of all: being a mom and raising little people! What a gift for you and your kids….In my short time here I have learned so much from you. Your ability to lead gently but decisively is a rare gift. Watching you thoughtfully consider different points of view while processing towards a decision is a lesson for me in leadership. And knowing you were involved in the group decision to bring me on board, I thank you. What a great opportunity this has been. Just like when Keith passed, THC will be forever changed by your leaving but, more importantly, it is forever changed by your being here. You will be sorely missed.
Thank you for everything…
Jackie Glaser
Senior Director, Client Services
Sara – Never saw this one coming, but truly SO excited for you. Thank you for all you have done to support me and my work and to bring me to THC. You are amazing!
Here's hoping you find what you're looking for and that our paths continue to intersect. In the mean time, wishing you and your family the best summer ever!!!
🍾Cheers to you!🥂
Hope Arthur
Director, Workforce Innovation
Sara – you have been such an integral part of THC – on a long & winding journey 😊 – and I am very appreciative of your efforts, your leadership & your presence over the past several years. I am truly happy for you as you begin a new adventure & will be rooting for you all the way! Enjoy family & friends…and all of life's blessings. Take care, be well!
Sharon Trainer
Coordinator, Business Development
Best wishes and regards, Sara! We will miss you, your fun personality and your many contributions to our success as a key leader at THC!
Dan Memmott, MBA
Chief Financial Officer